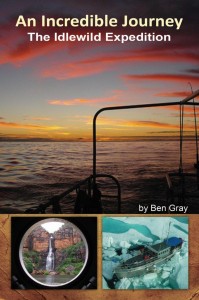 For us it was a challenge like no other. Sailors with little experience were to have the opportunity to see Arctic sailing at its worst, and the rest of the World at its adventuresome best, and then getting back to the starting point to say we've done it.
Circumnavigation Ends, June 25, 2006
At 22:27 local (z-9) we are here at 65° 30′ N / 168° 48.5′ W, where, on July 31 of last year, we turned around to go west to east around the world via the Northwest Passage. It has been a long and exciting trip back here, 329 days of which we spent 202 at sea and traveled 30,851 miles,. We also had a great voyage from Dunvegan, Alberta; down the river system to Tuktoyaktuk, and through the Western Arctic to get here the first time, and we still have a nice journey yet to Vancouver BC.A quiet cheer and a salute to Neptune.
Ben, Brad, Kevin, & Kurt
Email BenGray at telus dot net